---
Design and Deck Building:
Decks Built Specifically for Your Home:
How long have you been thinking about adding a deck to your home? Anytime is the right time! We will work with you to build anything you have in mind, and we will be happy to offer past experiences so that if we feel like there are options you may enjoy, you will benefit from our experience.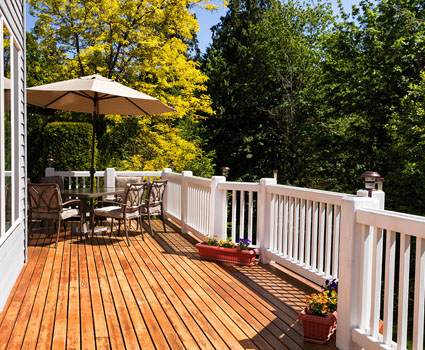 Latest Technology to Last:
Deck technology has come a long way in the last twenty years. You can choose from traditional wood materials stained and coated for longevity, or synthetic materials that require less maintenance and upkeep. Our team will show you all of your options and help guide you based on your budget, space and needs. We are here to help, and are happy to answer any questions you may have.
Wood Deck Staining & Protection:
With natural deck materials it is important that you protect them with quality stains and water repellents. All Season Roofing will work with you to install those products, in the colors you prefer, so that your new deck is protected and lasts for many years to come. If you have questions about ongoing maintenance, we'll be here to help and hope that you will contact us directly for advice.
---